By Garhe Osiebe, Rhodes University
NIGERIAN Afrobeats star Davido (David Adeleke) has demonstrated himself to be a master of showboating. He is able to milk every situation to the maximum. And he did not disappoint with the recent trailer for his fourth studio album, Timeless, released on 31 March.
It's drenched with signifiers of the tragic loss of his three-year-old son in a drowning accident last year. The trailer is clear as to his resolve to get over grief and dance again, and it leaves no one in doubt about his battle readiness:
If dem wan turn Goliath, I be David for life!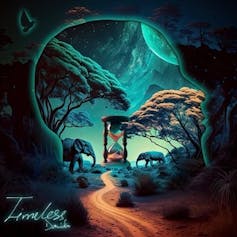 Davido sold his previous album, A Better Time as a better album than the preceding A Good Time. There's barely any suggestion, in my opinion as a scholar of Nigerian music, that this is necessarily true.
Again, Davido has mobilised this kind of language in promoting Timeless. This is all in the spirit of good publicity, but the impression is that his albums are by and large equals. They do well commercially owing to the colourful and likeable stature of the Davido persona. As he has noted, Timeless will also add to his catalogue and substantially extend his performance schedule at concerts.
But despite the barrage of overly friendly and praise-singing reviews, the unremarkable Timeless is no exception to the rule of Davido's output: he clearly has a propensity for form over content.
Who is Davido?
Born in the US city of Atlanta, the 30-year-old artist identifies as an American-Nigerian singer-songwriter and record producer. He studied business management before turning to music.
Davido began to dominate the African airwaves soon after his debut single Dami Duro in 2011. His production capacities endeared him to many and he represents one of the triggers for the naming of Afrobeats, which has become an umbrella term for Nigerian popular music. He was assured a place among the biggest names in Afrobeats, alongside the likes of Wizkid and Burna Boy. Many in fact refer to the trio as the big three of Afrobeats.
Following his debut album Omo Baba Olowo in 2012, Davido enjoyed his more significant years. He released his second studio album A Good Time in 2019. Singles like Skelewu (2013), If (2017) and Fall (2017) cemented his place as a trailblazer of contemporary Afrobeats. If and Fall made it into the 2019 album. The inclusion of the 2021 single Champion Sound in 2023's Timeless thus somewhat derives from the artist's tradition. Another undeniable tradition is Davido's seeming obsession with 17 – each of his studio albums has 17 tracks. This superficial disposition is central to why his has been a career of numerous great singles but no great single albums.
What's on the album?
Even before its release, Timeless was bound to draw on listeners' sympathies rather than a fair hearing due to the much-publicised death of his child. And Davido isn't one to pass up on such leeway. Add to that the tedious terrain that is an increasingly youthful Afrobeats ecosystem where Davido's age is already a negating factor – consider the steeply dwindling numbers for Nigerian pacesetters like 2Baba and D'banj – and a comprehension of his choice of features on the album materialises.
Over Dem, the opening track, centres on bragging, his seeming invincibility, on his uncle's success at the Osun State gubernatorial polls, and on the creator's faithfulness to him. Davido casts himself as a biblical David who slayed the giant Goliath. There is a brief deviation to sensuality and love on track 3, In the Garden, which features a new signee to his label, singer-songwriter Morravey. He returns to first base, proclaiming himself Godfather on track 4.
South African amapiano artist Musa Keys does a great job of salvaging track 5, Unavailable. While Over Dem makes for a good album opener with its tempered and groovy percussion, it is largely synonymous with track 8, Away.
With some further tweaking to Godfather and E Pain Me, the opening seven tracks could have done with being only four. In truth, the album only takes off on track 8, Away, suggesting the album could have been better if tracks 8 to 17 had been tracks 1 to 10 on a 10-track album. The bulk of the material in tracks 1 to 7 robs the album of cogent musicality. And the lean subject matter – bragging, love/sensuality/heartbreak, more bragging – doesn't help the listening experience.
This may seem to suggest that tracks 8 to 17 are in perfect shape, which is not the case. They contain several needless inclusions which the passable four from the first seven tracks could have replaced. The now old outro Champion Sound and, to some extent, For the Road and LCND come across as album fillers, all in the name of 17.
To sum it up
On Timeless, Davido keeps it simple and resists any temptation to reinvent his own wheel. He has never been a socially conscious artist and never pretended to be. The lack of range of topics addressed in the album reveals his contentment with the level he's always maintained and a stark lack of ambition to push beyond his boundaries.
On Over Dem, Davido admonishes his enemies:
If dem dey wait make dem see me flop, dem go wait till thy kingdom come!
Well, probably not.
By the standards he has set and those his loyal audiences expect of him, Timeless is not a critically great body of work.
Nevertheless, Davido ought to be commended for drafting a heavyweight like Beninese singer-songwriter Angelique Kidjo onto the album (but exploits her famous vocal capacities in a rather rushed verse on Na Money). By a mile the best vocal performance on Timeless comes from Nigerian singer-songwriter FAVE on the track Kante, which is also arguably the best work on the album.
This underscores Davido's status as an OG (original gangster) whose template serves as a platform for younger stars to maximise their advantage and flourish. He, after all, rises by lifting others.

Garhe Osiebe, Research Fellow, Rhodes University
This article is republished from The Conversation under a Creative Commons license. Read the original article.